Kiuwan Code Security (SAST) enforces a rigorous approach in the detection of security vulnerabilities. We strive to meet the most stringent requirements and our compliance reports meet all well known market standards (OWASP, CWE, MISRA, NIST, PCI, and CERT among others). Integrate Kiuwan in your development process and increase the overall security of your applications while reducing risk and cost thanks to early detection and correction of newly introduced vulnerabilities.
Features:
Kiuwan offers high level visibility over the security risks your applications are facing. We use market standard ratings to determine the criticality of the vulnerabilities found.
You can create action plans to remediate the defects found, either determining the effort required by the development teams or the rating you want to achieve.
You can determine the way you view the criticality of your applications, distributed by files or vulnerabilities.
A polyglot tool, Kiuwan boasts the most comprehensive coverage of programming languages, to ensure none of the applications in your portfolio are left behind.
Kiuwan enables developers and Security exports alike to identify and remidiate cyber threats in a blazingly fast, collaborative environment, with seamlessly integration in SDLC:
Executive overview. Kiuwan offers tailored reports with industry standard security ratings for your application portfolio.
Configure the level of criticality of your applications.
Kiuwan has one of the most comprehensive set of coding rules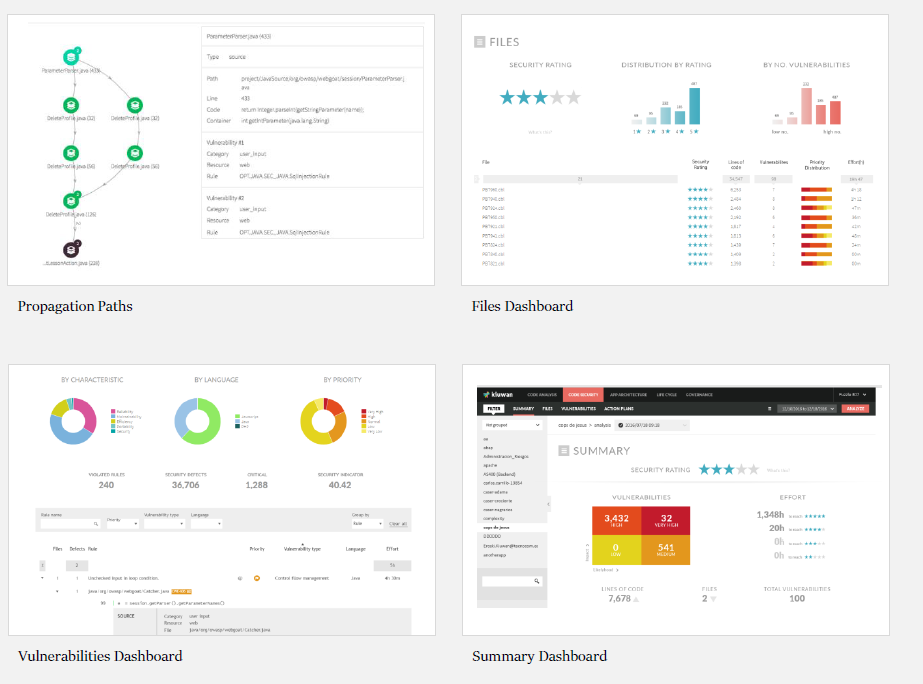 Manage your software Developement providers
Monitor the base of your application online.
Define checkpoints and audits tailored to each type of project or change request.
Change request promotion to baseline after acceptance of deliverable without rescanning. Views to compare different versions of applications in independent environments (Dev, test, production, etc...)
State management for change requests or development projects (in progress, resolved, etc).
Decide whether a new version of an application is ready to promote based on its status.
Automatically check control points continuously during the construction or maintenance phases to ensure that applications do not degrade over time after modifications.
Automate the entire process making Kiuwan connect with your continuous integration system (eg. Jenkins). Define permissions and roles for your users.
Control what information and what actions every member of the team can perform.
Reporting with defaults and effort required to repair deliveries.
Control the work being done by each development team or each software vendor.
Generate reports in PDF with detailed info on non-conformance deliveries.