Mend (formerly WhiteSource): The most advanced open source component management and security compliance solution to help developers write secure code without compromising speed or quality.
Mend (formerly WhiteSource)is an open-source license and vulnerability management platform. Mend (formerly WhiteSource) supports analysing 300+ languages and it can be integrated with all well-established DevOps tools.
In today's world, it is important to use Open-source code to speed up development process but using Any Open-source component comes with license compliance issues as well as vulnerability presents in that Open-Source Code.
Tracking the open-source components manually is almost impossible due to the high usage and transitive dependencies. If you do not know what you're using, you cannot detect vulnerable components or components with problematic licenses. Here is where Mend (formerly WhiteSource) can help you.
Defects in open source is equal to defects in your product (e.g., Heartbleed, Shellshock). Open source Community is often quick to fix, but you must know that you have that Open source component and you are using Old version which contains defects and you must upgrade. Mend (formerly WhiteSource) can give real time alerts about newly found defects as soon as software world knows them and provides probable solutions as well.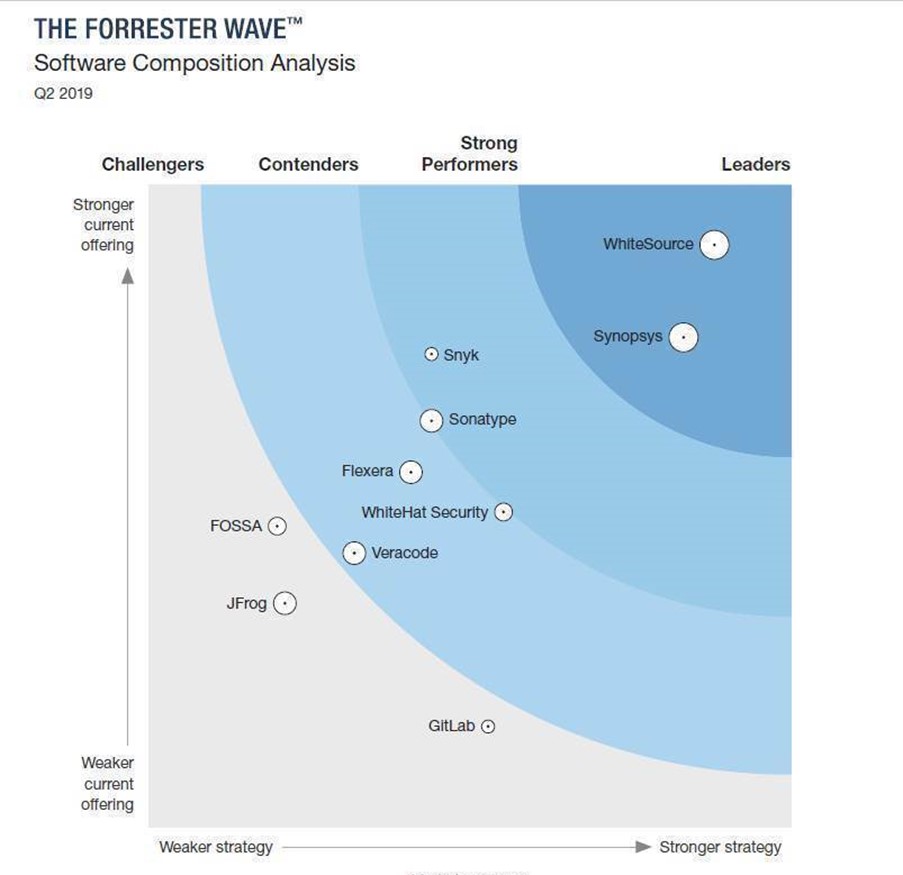 Want to know more about application security, DevSecOps, open-source license compliance and audit? Start Your Free Trial Today
Choose the industry-leading solution for open-source security and compliance management.
1. Gain full visibility and control over your open-source usage throughout the SDLC.
2. Speed up remediation processes with automated vulnerability prioritization and remediation.
3. Support for 200+ languages, with seamless integration into all environments.
4. Mitigate alert fatigue by reducing 85% of all security alerts with patent-pending technology.
Mend (formerly WhiteSource) Introduction
Mend (formerly WhiteSource) helps businesses all over the world to develop better software by harnessing the power of open source.
Mend (formerly WhiteSource) identifies every open-source component in your software, including dependencies. It then secures you from vulnerabilities and enforces license policies throughout the software development lifecycle.
Mend (formerly WhiteSource)fully automates the entire process of open-source components selection, approval, tracking and management, including real-time alerts on vulnerable and problematic open-source components, customized reports, enforcing policies automatically and more.
Find & Fix Open-Source Security Vulnerabilities
1. Over 180K vulnerabilities from multiple sources
2. No false positives
3. Actionable remediation links based on community inputs


Automated Up-to-Date Inventory Reports
1. Automatic detection of components and dependencies
2. Database of over 3M components & 70M source files
3. Support over 200 programming languages
4. Generating project and build level reports

Ensure License Compliance
1. Automatic detection of components and dependencies' licenses
2. Providing origin links for due- diligence reports
3. Avoid legal exposure and meet compliance standards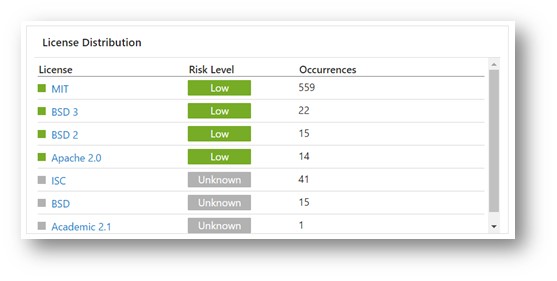 Mend (formerly WhiteSource)Dashboard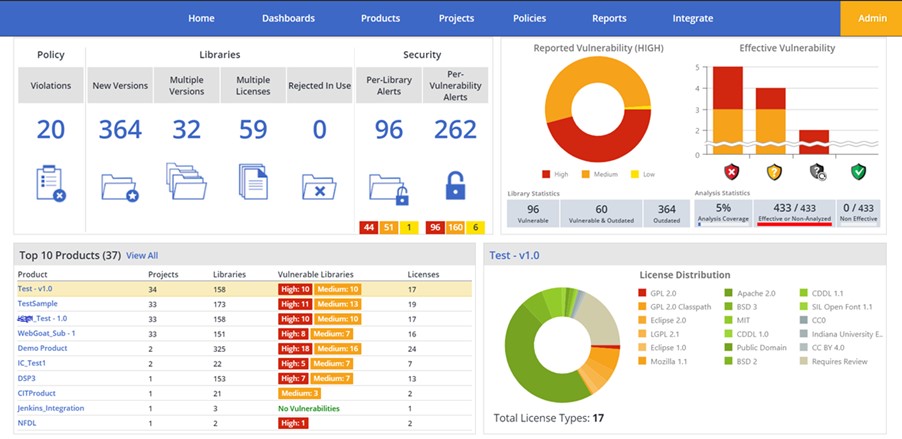 Mend (formerly WhiteSource) vs Other Tools available in the Market
Here is the latest SCA Forrester Wave Report. One of the main reasons for this leading position of Mend (formerly WhiteSource), High above everybody else is the revolutionary Mend (formerly WhiteSource)Prioritize (AKA Effective Usage Analysis) which really changed the game when it comes to manage open source vulnerabilities.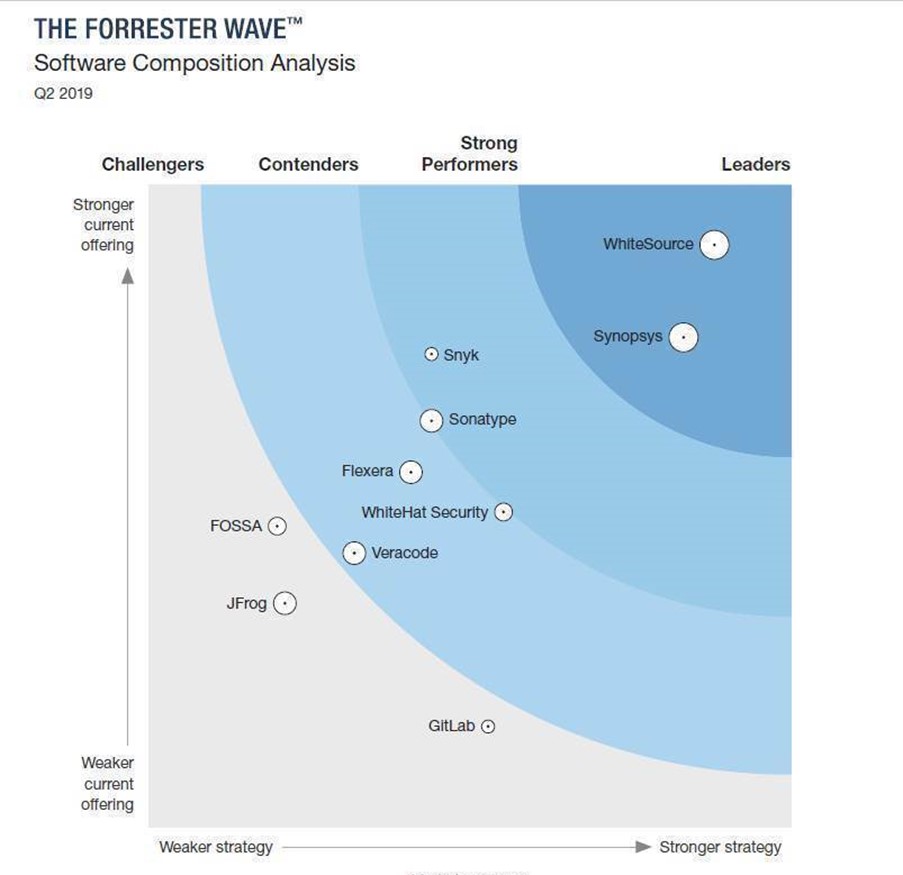 FOR SECURITY & RISK PROFESSIONALS
The Forrester Wave™: Software Composition Analysis, Q2 2019
Mend (formerly WhiteSource) reduces the time it takes to remediate through prioritization. Mend (formerly WhiteSource) has recently introduced the ability to prioritize vulnerabilities by performing static scans to understand if the vulnerable part of a component is being directly called by the application. If it isn't, the vulnerability is deprioritized. Another recently released feature is to automatically remediate vulnerabilities by creating pull requests to upgrade to a version that complies with company policy.
Customers praise Mend (formerly WhiteSource) broad language coverage and customer support but note that the product could do a better job of visualizing transitive dependencies. Mend (formerly WhiteSource) has very few weaknesses, but the bill of materials (BOM) functionality falls short, and to keep pace, Mend (formerly WhiteSource) will need to offer out-of-the-box comparison between current and historic BOMs.
Mend (formerly WhiteSource)is best for companies that require scanning at the earliest points of the SDLC and are looking for prioritization and automatic remediation.